We moved into the new Antair offices in March of 2008. I meant to do a write-up on setting up and furnishing an office for a software company at that point, but interviewing for two new open positions, and other administrative nonsense prevented me from doing so. So now, a year later, I've finally found some time to write this article.
Location and office layout
The search for the new office space went on for several months. We needed something that would fit five full-time employees comfortably. Bright light, and a clean, fully networked building were essentials. Spaces that were more open rather than divided up into several smaller rooms were given preference. Offices like this are more easily found in Manhattan, but we just weren't willing to spend the kind of money necessary to lease an office in the city, so our search focused around Brooklyn.
We finally found a great space in Park Slope. The building is brand new, and specifically built to be leased out for office space. The suite we leased is 800 sq. feet, priced at $20.00 per sq. foot. The layout is just what we wanted – a large open space. One wall is entirely composed of floor-to-ceiling windows, with a private patio. The office also has a private bathroom, a kitchen area with requisite appliances, and a separate area for servers and office machines.
This space suits us perfectly. It fits everyone very comfortably. It's very, very bright, with lots of natural sunlight. The outdoor patio is perfect for morning group breakfasts and afternoon lunches when it's warm. And … there's a great pub downstairs to celebrate the days when we ship a new software product or a major update release.
Furniture
After a month of changing the layout a bit to get things "just-right", and a week of painting the office (a bright peach shade for a very cozy atmosphere), it was time to furnish the office.
For the desks, we needed something akin to a long workbench, but I wasn't prepared to be so rustic. Most importantly, the desks needed to be longer than the average office desk found in Ikea, as they needed to fit three 20-inch monitors while still leaving room for a phone, keyboard, mouse, and personal items such as family photos, laptops, and desk-flowers. We finally settled on 60″ Series C office desks from Bush Furniture. They're functionally sufficient, and aesthetically pleasing — they also don't cost all that much. We purchased four desks initially, for a total cost of around $1,000.00 USD.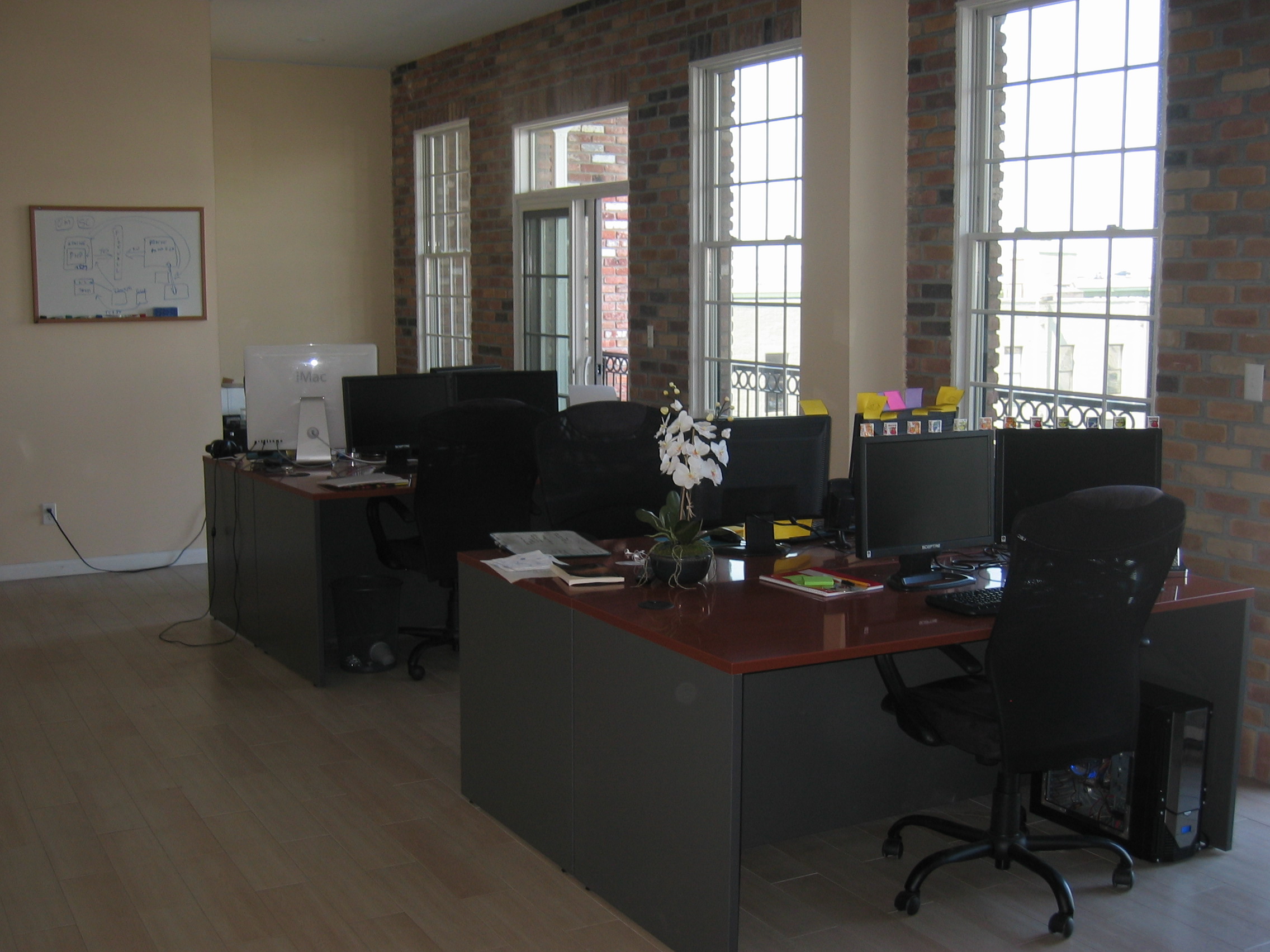 I don't recall where we finally got our chairs from. I do remember that it took more time to find the chairs that were "just-right" than any other piece of furniture. We spent less time configuring our web servers than we did looking for proper office chairs. They aren't Aeron chairs, and they don't cost anywhere near what an Aeron chair costs, but they're ergonomic, very comfortable, and adjustable in every direction. If I remember correctly, we found them in Staples, and they cost around $200.00 USD a piece.
For the reception area, we needed two comfortable chairs, the kind people are accustomed to seeing in reception areas, and a small coffee table. I believe we purchased these from Target at a total cost of around $500.00 USD. A few flowers, magazines, served coffee, and the space serves as a very comfortable and cozy reception area.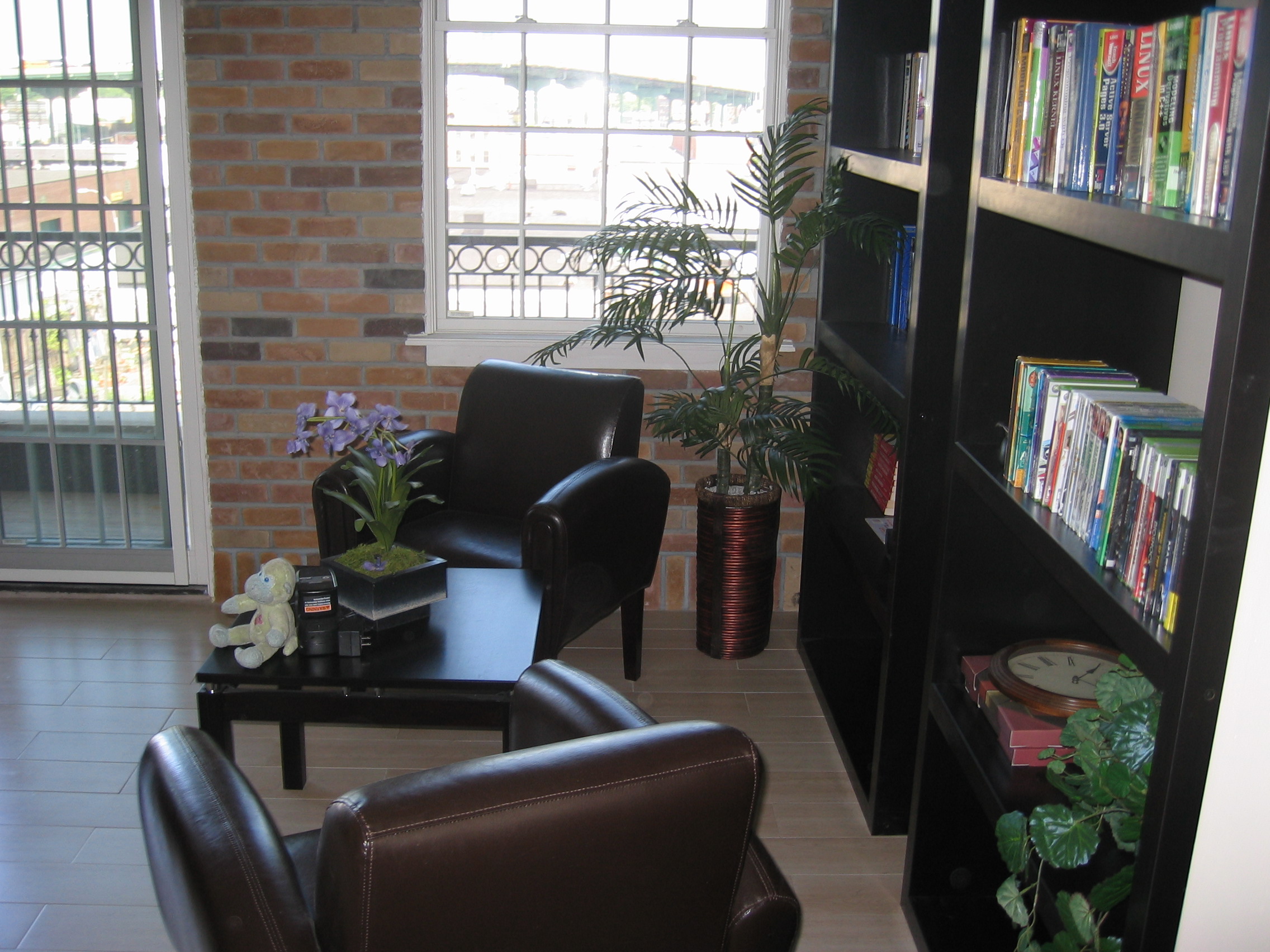 We have two massive book cases from Ikea. They cover one entire wall of the reception area, and contain everything from our technical books, to magazines that published articles reviewing our products, to video games for the office Xbox 360, to various DVDs and software packages. It was important to us that a candidate coming in for an interview, or a reporter coming in to interview us for an upcoming software release, has a great first impression. This is what we wanted from the reception area. The person coming in has a chance to relax, read some Antair-related literature, watch some DVDs, or just relax and have a cup of coffee.
For the administrative area, we picked up some knee-level cabinets to hold various things. The office printers, fax machines, and other office machines are then placed on top of the cabinets within comfortable reach of a standing person. There are three such cabinets at the office. I believe they were picked up at Ikea at a total cost of about $600.00 USD. The opposite wall of the administrative area contains our intranet servers and other networking peripherals.
The patio was outfitted with comfortable deck chairs and small outdoor lunch tables — it's not much, but just sitting outside on a warm day is a treat. Some of us like to have lunch or breakfast out there. I like to grab my laptop and work out on the patio for a few hours each day.
We also have an office couch. It was purchased from Target, I believe, and costs around $600.00. No-one uses the couch aside from the office pet — Cleo, my loyal Cocker Spaniel. Cleo comes to the office with me every day, and she seems to have really taken to the couch.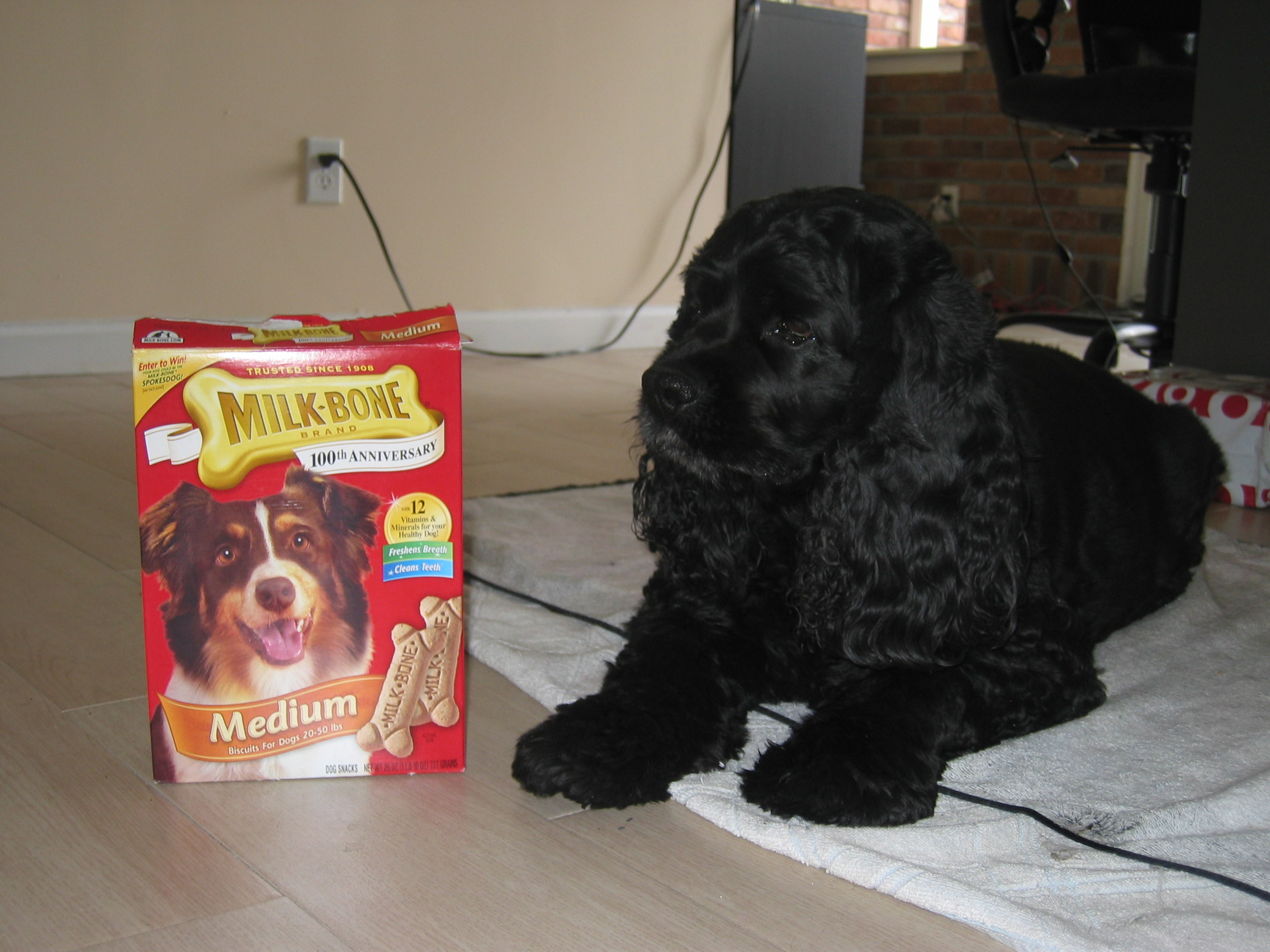 There are other items such as large whiteboards, and rubbish bins, and such. But I won't go into that.
Finally, the office has plenty of flowers and small standing trees — they bring a great touch of comfort and coziness to the office.
Office machines, technology, and other stuff.
Antair designs and publishes a variety of software products, so we couldn't stick with just Macs or just Windows boxes at the office. Each desk has a uber-powerful custom built Windows machine — primarily for development of our BlackBerry applications. Some desks have various Mac machines, from 24-inch iMacs to 17-inch Macbook Pros. While the Mac's are primarily for development of our iPhone games, some of us use Macs as our primary machines. I do most of my work on my Macbook Pro, as I tend to carry it between my house and the office (all I need is ssh and vi anyway).
Each person has at least two 20-inch flatscreen monitors. But since folks like to work the way they like to work, some people now have three monitors, while others (like myself), just have a single laptop.
Our intranet servers are mostly Dell machines running server Ubuntu. We have a single Windows server for VPN connections. Our web server is a rack mounted Dell machine running out of a colocation facility in New Mexico. Why New Mexico? Because a good colocation facility is a good colocation facility, and there's no reason to pay 400% more to lease space on a rack in New York City. We can access the web server as easily as any machine at the office. Our intranet is Linux-based, running a standard LAMP setup, with Perl as a primary development language.
The office television is a large-screen plasma hanging on the wall for all to use at any time. We have an Xbox 360 and a Nintendo Wii hooked up to it, and a wide assortment of DVDs and video games for every-day enjoyment. Most of the time, the TV is on with either the Sci-Fi channel or CNBC playing in the background.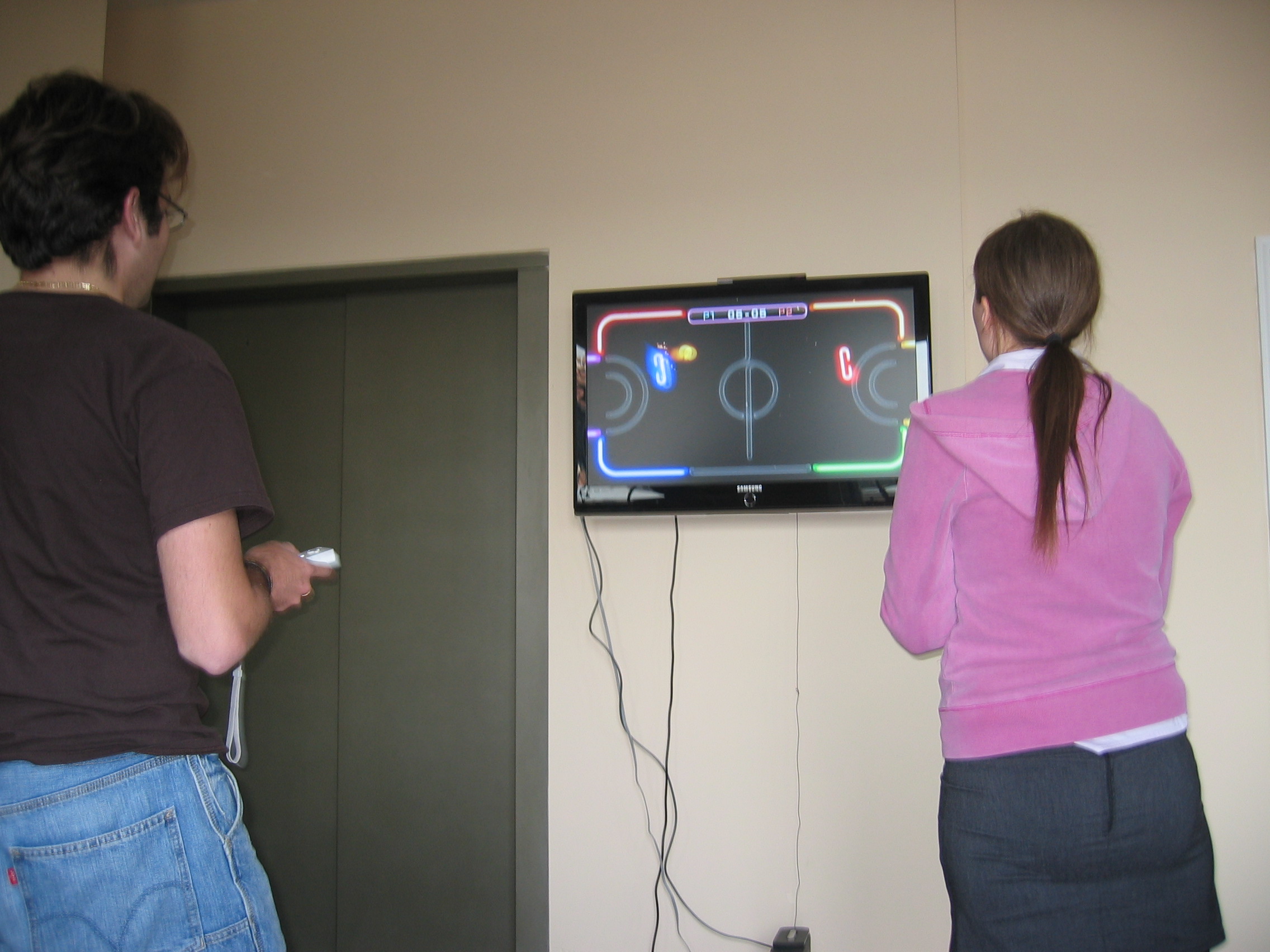 The bathroom is … a bathroom. It has the essentials and a shower that is rarely used but is available nevertheless. Finding office-related bathroom items was actually an eye-opener. Where do you go, for example, to purchase an industrial-quality paper-towel dispenser? I wouldn't remember where we got ours even if I tried. I remember that it wasn't very expensive.
The kitchen has a sink, a microwave, a refrigerator stocked with drinks, a cupboard stocked with snacks and various edible goodies, and a water dispenser (serviced monthly by Poland Spring).
The coffee machine, an essential, is a Senseo. A fantastic little machine that dishes out one or two cups at a time with a variety of flavors-in-a-pod. The Vienna French Vanilla is an office favorite at Antair.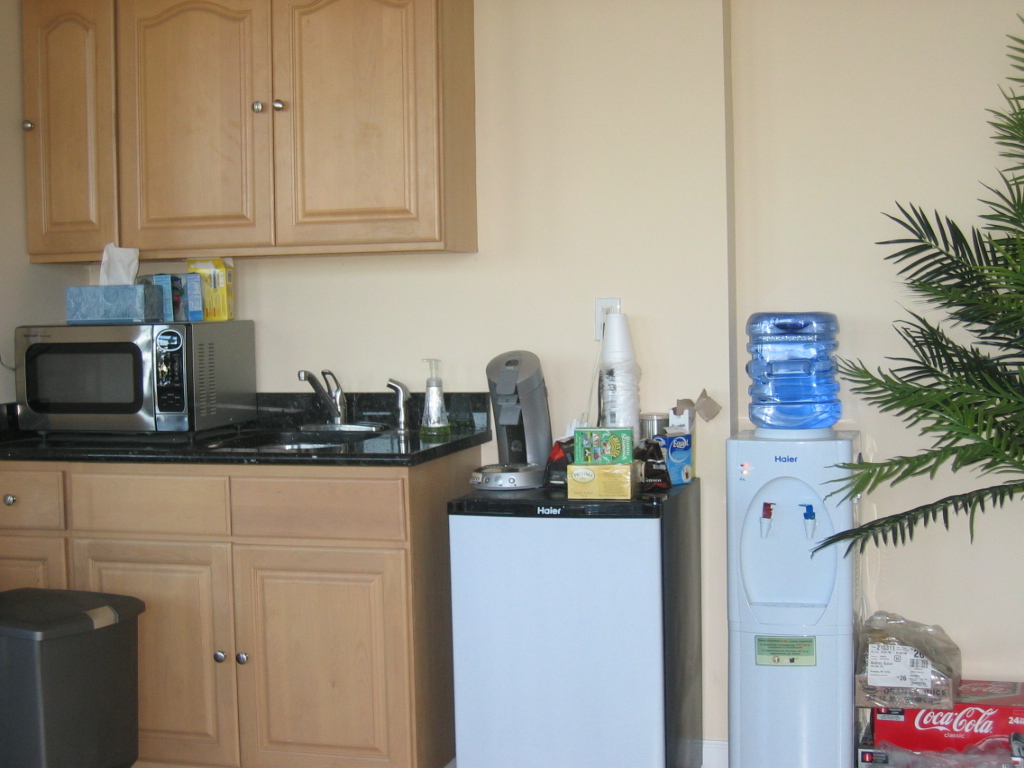 The phone system is a simple one. We didn't need to shell out 100k for a large office server-based phone system with extensions. The office has two lines. Everyone has access to a personal phone unit for taking or making calls, or for phone-support, and voice-mail messages are stored for when we're out of the office.
Every suite in the building has access to standard CAT-5 routing available for the building. All of our office machines are networked through standard routers and switches, accessing the internet through a "business-class" cable connection (slightly faster, but far more expensive than what one would have at home). Categorically, most services for the corporate world, business accounts, such as they are called, are more expensive then their consumer counterparts. But it's an office building, zoned as an office building, and Antair is a corporation, so we pay corporate rates and have business-class accounts for everything from electricity to gas to internet, phone lines, and television services — something to consider if you're preparing a budget for opening up a new office.
Final costs.
All in all, the office took 2 months to set up from the time we found the location and signed the lease, to the time we were ready to move in. The total cost of bringing up the office was just shy of $20k USD.